Festival of Nature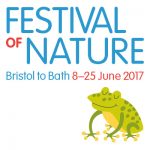 Bristol Natural History Consortium Bristol, Keynsham and Bath Free Disability Access Ad expires in 4 weeks Events
Festival of Nature | Free Family Events
Bristol, Keynsham, & Bath 8-25 June 2017 
Over three consecutive weekends, the Festival of Nature is the UK's largest free celebration of the natural world – with talks, performance, art, music, literature, photography and more. Creativity, imagination and innovation bring the wild to life.  Nature-lovers of all ages will find something to satisfy their curiosity, offering new perspectives on the communities and wildlife that make the River Avon their home.
Discover how birds, rodents, people, trees – even the river itself – view our natural environment. Chat to researchers and presenters, savour the markets, and uncover the nature on your doorstep, through an array of extraordinary activities. The Festival events attract thousands of people to go 'through the looking glass' and see our region differently:
Bristol Harbourside comes alive over Saturday 10th – Sunday 11th June;
Keynsham Memorial Park hosts the Free Family Sunday on 18th June;
Bath holds its first BioBlitz in Bushey Norwood Friday 23rd – Saturday 24th June;
Bath Royal Parade Gardens welcomes you on Sunday 25th June.
Bring family, friends, questions, and curiosity! What will you discover?
Visit our website by clicking 'More Information' below for more information and to sign up to the newsletter for a full programme of events as soon as it's released.
Contact Details:
Stuart More Information