The future of the planet – in whose hands?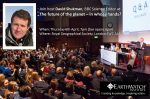 Earthwatch Institute (Europe) Royal Geographical Society, London Free. £5 recommended donation Disability Access Ad expires in 1 month Events
Population growth, the over-exploitation of natural resources and climate change are literally costing us our Earth.
Join host David Shukman, BBC News Science Editor, on April 6th to decide who holds the future of the planet in their hands.
The Living Planet Index (2016) predicts a decline in wildlife populations of two-thirds by 2020, unless we take action now.
Although there are roles to be played by government, business, investors and the public, who potentially holds the balance of power? Which sector of society could do more to protect and preserve our most precious resources? What steps need to be taken to save our planet and which sector will take the most effective action?
Leading BBC correspondent David Shukman will be chairing the debate between business leaders, government representatives, the investment community and the general about which sector holds the real power to address the biggest challenges we have ever faced and you will vote for who holds the key to the planet's future.
Should business take the lead by embedding environmental sustainability into their activities and through the development of new technologies and business models?
Is Government policy, regulation and taxation the best lever for making people and business appreciate the 'real cost' of their actions.
Maybe the investment community is set to become an unlikely rescuer as environmental change becomes an ever-increasing risk?
Or does the answer lie in 'people power', where the public themselves make the changes required to live more sustainably?
Contact Details:
Emily Anderson fundraising@earthwatch.org.uk 01865 318838 More Information