Action for Conservation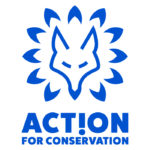 London, United KingdomConservation, Education, Environment, Nature & Wildlife, Workshop & Practical Skills
About Action for Conservation
We are at a critical moment for the earth. It has never been more important to empower every young person to fight for their future and the future of the planet. Action for Conservation is an innovative young charity using pioneering approaches to inspire the next generation of environmental leaders and bring about systemic change in the wider environmental sector and Government. We work with young people from diverse backgrounds to build a youth movement committed to the earth.
We know that the best antidote to anxiety about the ecological emergency and the inaction of our leaders is to grow connections to place and empower young people to take practical action to protect the living world. To date, we have supported over 5,000 young people to learn new skills; grow their eco-literacy; build a connection to nature; take action to disrupt the status quo and address the climate and ecological emergency, revitalising and diversifying the sector in the process; bring about long-term and meaningful change in their communities; shape the values of wider society; and, build a greener future in which people and planet thrive. Reflecting this success, the charity has grown in a short space of time from start-up to an annual turnover of circa £1 million.
Action for Conservation's Chief Executive, Hendrikus van Hensbergen, was awarded the People's Postcode Lottery Rising Star Award for his inspirational leadership and sits on the Esmée Fairbairn's Foundation's Our Natural World Advisory Panel. His definitive guide to taking action for the environment for young people, How You Can Save the Planet, was published by Penguin in 2021. Our work is steered by a Board of Trustees that includes leading youth activists; David Macdonald CBE, renowned conservationist and Founding Director of the University of Oxford's Wildlife Conservation Research Unit; Dame Helen Ghosh DCB, Ex-Director General of the National Trust; and, Robert Macfarlane, best-selling and prize-winning author on nature, landscape and place, among other inspiring individuals.