Campaign for National Parks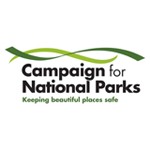 London
The Campaign for National Parks is here to protect, stand up for and expand the National Parks family.
We are the only national charity dedicated to campaigning to protect and promote all of the National Parks of England and Wales.
We work with a wide variety of people and organisations, representing shared concerns, views and voices. We come together to address issues affecting National Parks and take action to keep these beautiful places safe.
It's our belief that the Parks of England and Wales are national treasures that are worth fighting for. We need your help to take our messages to decision makers and to make our voice heard in the corridors of power.