Kaya Responsible Travel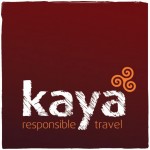 Various Locations
Kaya was set up in 2008 by our Director, Heilwig Jones, after her own volunteering experiences and many years' involvement with community projects. The idea behind Kaya is to bring together the quality and impact of grass roots projects with the breadth of choice, quality of structure and organization and level of service that enables everyone the opportunity to contribute to positive action and enjoy traveling the world more responsibly.
Kaya's mission is to promote sustainable social, environmental and economic development, empower communities and cultivate educated, compassionate global citizens through responsible travel.
As global travel becomes more accessible, and we look to visit further and more exotic locations, we often discover that the real world is not always easy to uncover, and often visitors don't get a chance to see beyond the window that tourism can offer.
As a volunteer, you have the opportunity to become a real part of the environments, lives and communities of the world's developing nations. And whether you chose to work on projects that benefit the wildlife, the environment or the people, you come away knowing that your being there has positively impacted those you have visited.
If you are looking for an internship with a difference, this is the project for you.