Peterborough Environment City Trust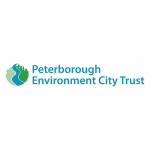 Peterborough
Peterborough Environment City Trust (PECT) is an independent and innovative environmental charity helping to create a cleaner, greener, and healthier city of Peterborough and beyond.
With more than 22 years' experience working within the city, PECT delivers ground-breaking and innovative projects of local, regional and national significance, enabling change for a sustainable future.
Here in the UK we're currently using resources at such a rate that we need three planets to support us, but we've just got the one. Things need to change in order to enjoy a better quality of life for ourselves, our families and future generations.
PECT aims to lead and support Peterborough in becoming the UK's Environment Capital: a city achieving truly sustainable growth and improving the overall quality of life of its residents. We champion sustainable practices in order to leave a lasting legacy for future generations.
PECT works with a multitude of communities, schools, businesses, local authorities and voluntary organisations to deliver projects that make a real difference. Positive change for achieving a greener, happier, healthier city is at the heart of what we do, and our staff and volunteers are passionate advocates for 'walking the walk'.