Trees for Life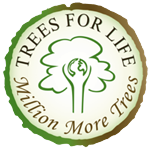 Forres
Trees for Life is the only organisation specifically dedicated to restoring the Caledonian Forest to a Project Area of 1,000 sq miles in the Scottish Highlands.
We work in partnership with Forestry Commission Scotland, RSPB, The National Trust for Scotland and private landowners, and own and manage the 10,000 acre Dundreggan Estate.
Each year we run a number of Conservation Weeks. Hundreds of volunteers join us annually in planting tens of thousands of trees and carry out other restoration work such as seed collection and propagation of young trees and rare woodland plants. We have planted over one million trees since 1989.