Abby Crosby – Marine Conservation Officer
Competition can be high for jobs in this sector, but if people persevere and show they are committed they will certainly get the right role in this ever growing sector.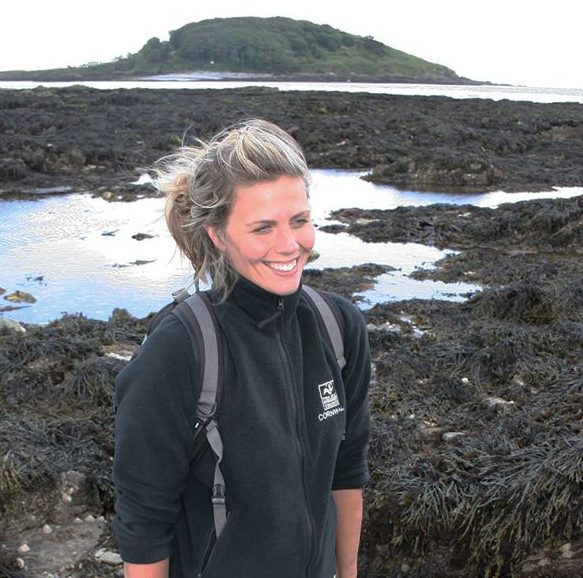 Hi Abby! What is your job title?
Marine Conservation Officer, Cornwall Wildlife Trust
And what do you do as a Marine Conservation Officer?
I am working towards achieving CWT's Living Sea Vision – coordinating a series of Projects which all collect data about our marine environment, educate people on its importance, and campaign for better protection of our marine wildlife and habitats. Key project I coordinate include;
Seaquest Southwest  – a citizen science marine recording programme to record marine wildlife and use that data to better protect it in our waters.
Marine Stranding Network – CWT are the official recorder of all dead stranded animals that wash  up around the county, using the information to understand the ecology of marine species and the threats facing them in our waters.
Cornwall Marine and Coastal Code – tackling the issue of marine disturbance and harassment by water users in Cornwall.
Your Shore Beach Rangers – I manage our new community conservation based Project, which is setting up new local Marine Conservation Groups around Cornwall whilst engaging with young people, 11-24 years of age, to become Beach Rangers and support the process.
Marine Conservation Zone development.
What does a typical day see you getting up to?
In addition to running the above projects and work programmes, which may include admin such as supporting volunteers, writing reports, and coordinating meetings, my typical working day will include phone calls from the public with marine life enquiries, contact from the press to comment on any recent marine related news item, and finally perhaps writing articles for magazines such as CWT's Wild Cornwall mag or our regular articles in Cornwall Life.
What skills does your role require?
You need a degree or equivalent in marine science, and a good sound knowledge of UK  (and Cornwall ) marine habitat and species. You have got to have a good overview of marine conservation issues facing our marine environment in Cornwall. Basically you have to be a bit of a Jack of all trades! As you need to have a good understanding and little knowledge of everything from fisheries to rockpooling, MCZs to cetaceans. I think you need to be passionate and enthusiastic about your subject so that you can successfully engage people about the marine environment, and also be good with working with people and stakeholders, whether that be the public or a governing body, as our conservation work is all about partnership working.
How did you get into this role?
I did a degree in biological science at Exeter University, and seemed to do better at the marine modules! I decided to go on and do a MSc in Marine Science at Plymouth, and then eventually got my first job as a seasonal Marine Ranger with the Torbay Coast and Countryside Trust – a 6 month placement. I ended up staying with TCCT for over a year, when a trainee position came up at the Marine Biological Association in Plymouth for 9 months working within the MarLIN team there. It was at the MBA I volunteered one day to help Cornwall Wildlife Trust with their annual surveys of Looe Island in South East Cornwall. It was at that survey I met my now boss, and heard about a job coming up. It was that job – Marine Education Officer with CWT working on the 'Discovering the Wonders of Looe's Marine Heritage Project', which I went on to get, and nearly 9 years later I am still in the Trust having worked my way up to Marine Conservation Officer.
What recommendations would you make to someone who would like a similar role to you?
You need to prove you have enthusiasm, and are passionate and committed. You need to show you have local knowledge and experience, UK based, rather than extensive experience overseas. It is good to show you can apply yourself to all types of roles, from education to report writing, or press and media work to scientific surveys. Competition can be high for jobs in this sector, but if people persevere and show they are committed they will certainly get the right role in this ever growing sector.
Thanks very much Abby!