African Safari Adventure: Part 3
I was so excited that it was hard to accept they were wild and dangerous animals – all you wanted to do was leap out of the truck and cuddle them!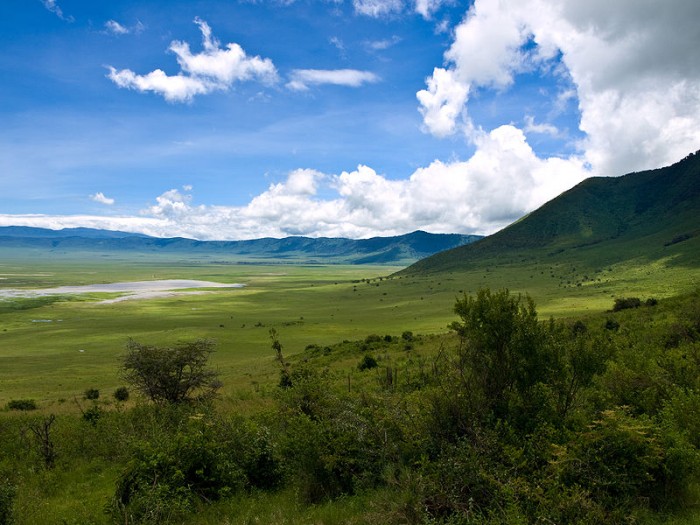 Part 3: Ngorongoro Conservation Area
The next part of the adventure began on our travels to the Ngorongoro Crater Conservation Area.  There was a vast array of habitats in one area – with lush forestry covering the crater rim and a savannah and grassland area on the crater floor, much like the Serengeti system of which it is a part.
After setting up camp in a much busier campsite, with far better facilities than anticipated, we decided to drive down to the crater for a brief visit before dark.  The immediate view of the vast open land, surrounded by thick green slopes was spectacular.  We instantly saw hundreds of gazelles – both Thomson and Grants – and just before heading back to the rim to return to camp we passed 3 female lions lying on the side of the road.  I was so excited that it was hard to accept they were wild and dangerous animals – all you wanted to do was leap out of the truck and cuddle them!  And that wasn't it.  Having been warned of their severe rarity in the area and their illusive nature, we were hugely lucky to see 2 (critically endangered) Black Rhinos walking across the plains.  I honestly didn't think anything could get better than this; 4 days in and Africa had already surpassed all my dreams and expectations!
We spent the next two days also exploring the crater, practicing distance sampling of species group sizes; this was quite a challenge with hundreds and thousands of zebra, wildebeest and gazelle around us.  At lunch time we stopped in areas where black kisses would swoop down, trying to steal the food from your hands, and where hippos stared at you from the waters edge.  It was hard to comprehend the fact that there were no barriers in the wild. Even our UniMog was very exposed – and I found this out the hard way. While driving past another pride of lions, we disturbed a female and she reared up on her hind legs, preparing to pounce at the truck where I was directly sitting.  I froze and screamed for them to keep driving – I don't think I will ever forget that feeling and definitely did my fair share of hyperventilating afterwards.  Around this time we were also able to see a male and female lion in the process of mating, which we later found out happens every 15 minutes for 3 days – pretty intense! Unfortunately it was also apparent that, as observers, we were influencing their behaviour and making mating difficult as the female searched for shade behind the many trucks that had accumulated in the area.  This was even more apparent when we were ridiculously lucky to find a leopard post kill with a gazelle carcass in a tree.  Here there were 30 trucks lined up against the area for the "show", but whether or not this really effects the animals we will never know. However, as much as I didn't like it, I didn't want to leave any more than anyone else did.  And we did notice that many tourists liked to take pictures of us in our enormous vehicle rather than watch the leopard…very strange indeed.
I think this would have to be my favourite park so far, having had such a crazy amount of luck in ticking off one by one a huge array of species some people never end up seeing on any safari.  In the evenings it was so cold at the top of the crater of the dormant volcano, that thermals were essential.  But this also meant, to my delight, that we were able to light our first big campfire, which proved perfect in warming us up.  Some of us remained up at night to complete our field guide notes from the day's exploration, and we were fortunate enough to have bush pigs come right up to us as they searched for food scraps. And they were huge!  Shining our torches around us, we caught the sight of a group of zebra amongst the tents – truly amazing.  But what was even more incredible was one evening before the sun set, a herd of elephants passed within 10m of our pitches and made their way down the edge of the crater.  We had to be careful not to spook them as a stampede could have been disastrous, but we were all too mesmerised to even move, let alone make any sudden sounds or movements.  The final instalment of my trip began with us leaving the crater and heading to the Serengeti.