The Highland Tiger
Once found across the UK, wildcats are now confined to north of the Central Belt in Scotland. They are so rare and elusive that population estimates have been as low as 35, making them 70 times rarer than the giant panda.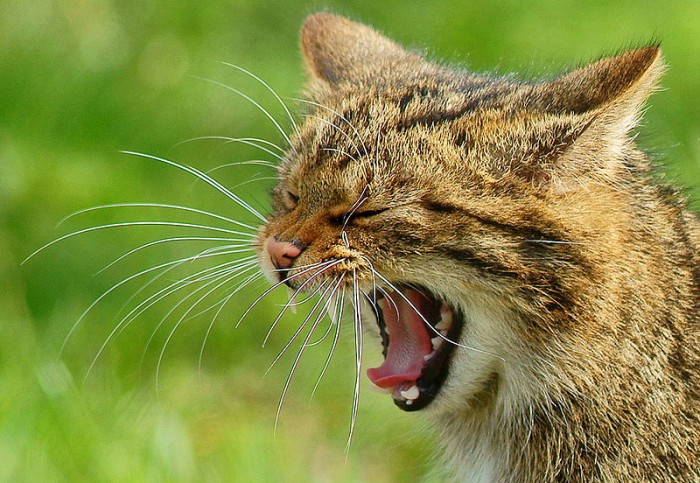 The Scottish wildcat is one of Britain's most endangered animals. Once found across the UK, wildcats are now confined to north of the Central Belt in Scotland. They are so rare and elusive that population estimates have been as low as 35, making them 70 times rarer than the giant panda.
Originally their numbers decreased due to the deforestation of their preferred habitat and human persecution. They were killed for fur and by farmers and gamekeepers because they were branded as a pest species. Currently, roads and diseases are threats to the wildcat, but the most serious threat is cross-mating with domestic cats, known as hybridisation. This gradually waters down true wildcat genes, resulting in hybrid cats which may look like wildcats but behave very differently.
A new study called Survey and Scoping of Wildcat Priority Areas produced by researchers at the James Hutton Institute, WildCRU and the Royal Zoological Society of Scotland, and commissioned by Scottish Natural Heritage, has identified six new sites in Scotland as key areas for wildcats. Research on the cats led to the designation of the areas, in the Angus Glens, northern Strathspey, Morvern, Strathavon, Strathbogie and Strathpeffer. They are all believed to be wildcat strongholds as fieldwork involving camera traps, scent lures and live-trapping, and genetic tests on blood, droppings and hair samples, showed that the cats living wild in these areas have strong wildcat features. Dr Rob Ogden, Royal Zoological Society of Scotland's Head of Science said: "The survey findings support that there are wild-living cats displaying many of the typical wildcat features in these areas. Although some of the best examples caught on camera were not tested for their DNA, some of the cats tested had a high proportion of wildcat genetic markers. Hence a pragmatic view is that our wildcats remain distinctive and are worthy of protection."
The next step is to reduce the risk of further hybridisation in these areas. This will be done by co-ordinating an ambitious trap, neuter and release programme to neuter all feral and hybrid cats. All cat owners will also be encouraged to neuter and vaccinate their cats, as well as have them micro-chipped, which will help make pet cats easily identifiable. Scottish Natural Heritage and its partners in The Scottish Wildcat Conservation Action Plan will also be working with gamekeepers, foresters and farmers to reduce the threat of predator control.
Populations of wildcats will be monitored regularly to check the effectiveness of these actions. "These priority areas give us real opportunity to halt the decline of the Scottish wildcat and preserve its distinctive identity. The Action Plan partners take a pragmatic view – there are good examples of wildcats out there, displaying many of the characteristics of this species. And this is very much the focus of the new Wildcat Action project. We have been encouraged by the number and the quality of wildcats that have been observed, given the relatively short duration of the surveys. We think this is indicative of populations persisting more widely. But the threats are ever-present and we need to act now to preserve animals that are distinctive as Scottish wildcats. And with the help of people in these communities we aim to do just that," said Jenny Bryce, wildlife ecologist from Scottish Natural Heritage.
Earlier this year, the Wildcat Haven project set up a new sanctuary in the north-west Highlands to provide a safe haven where wildcats will be protected from breeding with domestic cats. The 250-square mile sanctuary is located on the Ardnamuchan peninsula, where some of the country's wildest landscapes can be found, but where the human population is low. Here, cage traps are baited with mackerel and fish oil to attract cats. If feral cats are captured they are neutered and released. If the animal looks like a wildcat, it is recorded and DNA samples are taken. The project's scientific adviser Dr Paul O'Donoghue from the University of Chester said: "Our goal is to establish populations of genetically-pure wildcats. We are determined not to settle for second best or to settle for a bunch of tabbies that bear a resemblance to wildcats. Protecting anything less than the pure Scottish wildcat will condemn the species to extinction. The behaviour of feral cats and pure wildcats is very different. Scotland's ecology needs the true wildcat and, outside of a wildlife park enclosure, this is the only place in the UK where they are safe from hybridisation. Places like the central Highlands, like the Cairngorms, where there is a high human population and a massive cat population, the pure wildcat is a doomed wildcat."
The sanctuary is protected by a heavily monitored buffer zone which feral cats could not easily pass through. This approach is one that should take place on a national scale, but money is a limiting factor. "If we had the funding available, we would be very confident of saving the wildcat; the only thing that limits the scale of the Haven project is lack of funding," Dr Donoghue added.
Projects like these will help to prevent the serious threat of hybridisation. However, it may be too late. The Scotsman published an article earlier this month, claiming that the Scottish wildcat may already be extinct. Conservationists have admitted that analysis of samples collected from research carried out over 30 years revealed that none were 100% genetically pure. Scottish Natural Heritage admitted that tests carried out by the WildGenes Laboratory at the Royal Zoological Society of Scotland showed "all the wild-living cat samples collected in the last 30 years appear to have some domestic cat genetic markers."