Cranes in Britain
It is our tallest breeding bird and its majestic appearance ensured that it frequently featured in art, mythology and legends.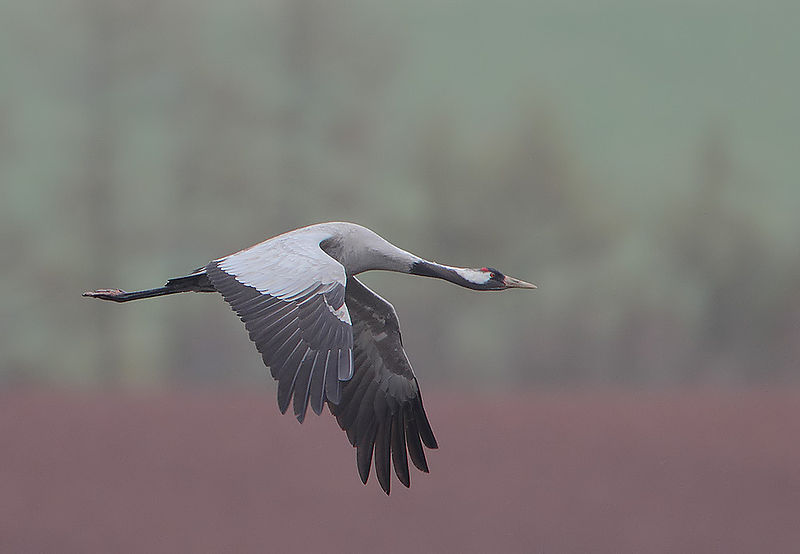 The Eurasian Crane was a once widespread throughout Britain. Standing at nearly 4 feet (1.2m), it is our tallest breeding bird and its majestic appearance ensured that it frequently featured in art, mythology and legends. Hunting for food and the draining of their wetland nesting sites meant that, by around 1600, it became extinct as a breeding bird in the UK. Since 1979, there has been a small population of cranes in the Norfolk Broads, but even though they have bred successfully, these birds are isolated and very vulnerable.
In order to secure our crane population, it was decided that cranes would be reintroduced into Britain. Eggs have been brought here from Germany and hatched at the Wildfowl and Wetland Trust (WWT) Slimbridge Wetland Centre. Here, they are hatched in specialist rearing facilities and the chicks are hand-reared using the isolation-rearing technique. At 'school' the chicks are given continuous care by humans dressed from head to foot in a special costume that disguises their body form so that the chicks do not imprint on humans. After being provided with special diets and constant exercise as they grow, when they are around 5 months old the birds are then transported to the Somerset Levels and Moors – 60,000 hectares of floodplain with meadows, mixed pasture and wetlands. Here, they are released and closely monitored using satellite transmitters and leg-rings as they adapt to life in the wild.
The Great Crane Project is a partnership between WWT, the RSPB and Pensthorpe Conservation Trust, and has been reintroducing cranes in Somerset since 2010. The project aims to release around 20 young birds each year (between 2010 and 2015), with a total of 100 birds released by 2015. Success for the project came last month when the first wild crane egg in western Britain for 400 years was spotted on a nest at Slimbridge. The parents had been released onto the Somerset Levels, but had returned to the centre to breed. At just 3 years of age, they weren't expected to breed for another few years, but they began to nest in April right in front of a hide, giving excellent views for birdwatchers and providing scientists with an opportunity to study their nesting behaviour. The eggs were guarded 24 hours a day by WWT staff and volunteers against egg thieves, and a glimpse of a chick was made on the 26th May. Sadly, by the 31st May, the parents had abandoned the nest, and there was no sign of the chick. The cause of death cannot be determined, but it is likely that it was either due to bad weather, or a predator. Although this was a setback, it is a minor one, and cranes look set to be a feature of our landscape once again.