H is for Hen Harrier
Once seen, never forgotten. Indeed, a sighting of this charismatic raptor would crown any walk in England's beautiful uplands.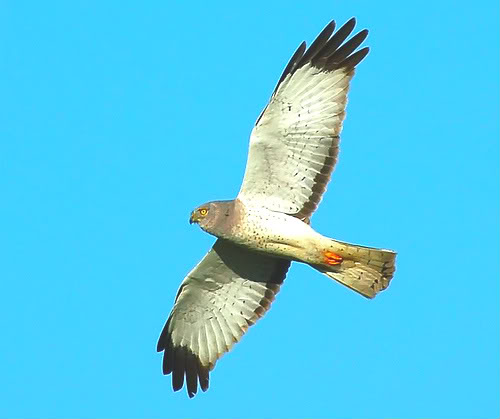 Hen harriers are breath-taking birds. Whether a powerful, brown ring-tailed female steering over winter game cover over the South Downs, or a slender, ghostly male, elegant and streamlined battle cruiser holding forth over a breeding territory, they're stunning animals. They hunt by quartering low over open ground, swaying in the wind, wings held in a raked V – at once seeming at the mercy of the breeze whilst remaining in complete control. Once seen, never forgotten. Indeed, a sighting of this charismatic raptor would crown any walk in England's beautiful uplands.
But I must report that such a sighting would be unlikely. Research has suggested that England possesses enough suitable habitat to support 200-350 pairs, depending on which estimate you use. The current population is closer to four or five. The reason? It's unambiguously due to illegal persecution, often linked to driven grouse shoots. That's not a controversial statement; it's well supported by evidence. However, unless you've been living under a rock, those with an interest in conservation in this country will be well aware that the subject of raptor persecution is controversial, coloured by many an entrenched opinion and intemperate remark.
In light of that, I tend to believe a conciliatory approach to the problem, which addresses prejudices and genuine need on both sides, stands the best chance of success. For example, the RSPB's new Skydancer project, which is focusing on community engagement, or on-going work at Langholm Moor, which aims to find a way for a commercially viable grouse shoot and a healthy hen harrier population to coexist peacefully. If, through them, the inherent worth of hen harriers as an integral part of our natural heritage receives better recognition, and conflicts with shooting can be resolved in a meaningful way, the future of hen harriers in England, and the UK as a whole, may be secured.
However, things have not changed fast enough in recent years – modest successes, such as the survival of breeding harriers in Lancashire's Forest of Bowland, have not translated into a wider population increase. Unless the picture improves dramatically in the near future, I wouldn't be surprised if the RSPB and other groups started to use much stronger language in their condemnation of what is, after all, illegal persecution that deprives many of us of the chance to see harriers. I freely acknowledge that there is evidence hen harriers can, under certain conditions, deplete the autumn surpluses of grouse on a moor enough to make shooting commercially nonviable. But I can't currently think of any other industry with permission to exterminate a nationally endangered species in order to continue. Nor have I yet heard a convincing argument that grouse shooting should be treated any differently.
Further Reading:
Natural England report: The future of Hen Harriers as a breeding bird in England