Conservation Jobs – Field Tutor
While this certainly hasn't been a straight path from uni, and I've had luck and opportunities presented to me on the way, I strongly believe you make your own opportunities.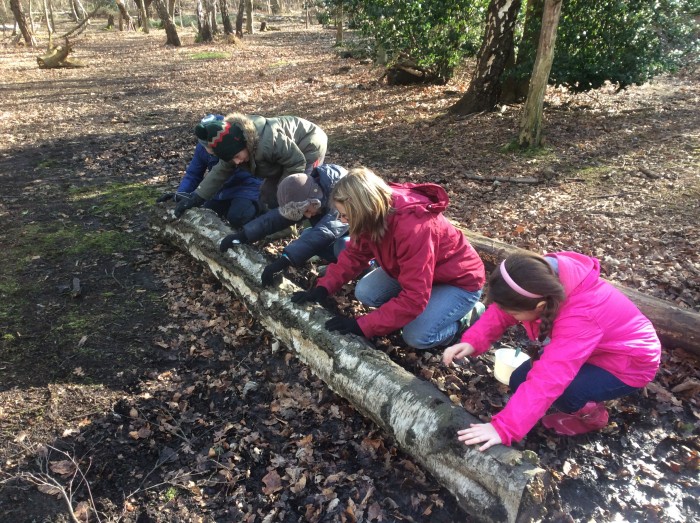 Alex Pearce has a chat with Yanika Hennig – Field Tutor for the Field Studies Council (FSC)
Hi Yanika. What is your job as a Field Tutor all about?
Teaching a range of ages from Reception through to A level. Our courses are mainly Biology and Geography based and follow the curriculum for the various exam boards for these subjects. Every course is based outside, using the natural environment of Epping Forest to stimulate learning. In addition to teaching school groups, we also have family events which we run and adult courses which we support. It's a very active, hands-on job which is different every day. Delivering our school courses means tutors will spend days in the forest doing fun activities with younger children; studying river processes for various geography courses; looking at urban geography in a nearby town;  analysing the biodiversity of our ponds with A level classes; setting up transect lines and using quadrates. It still amazes me how little contact children now have with the natural world. Being close to London, we often have children who rarely leave the city: many have never worn wellies before, or been to Epping Forest, even though its only 9km from London at its closest point. It's great to see their reactions to the environment- the mid is always a great talking point!
What is a typical day see you getting up to?
Most days we arrive before 9, unless we have morning meetings in which case it's 8.30. We will set up our classrooms for the day, making sure we have everything we need for teaching. When the coaches arrive, we go out to greet them, and check details such as number of pupils, leaving time etc. You have to be a very good communicator, despite pre-course liaison teachers will often turn up expecting something different to what you have planned, so flexibility is key.  Schools come for different reasons. Sometimes it's an enrichment day, a chance for students to get out of the classroom, bond with their peers and experience something new. More often they will be coming to do research for a project/controlled coursework, to deepen their understanding of an element of the geography or biology curriculum, or to develop practical fieldwork skills.
We get the children into the classroom, deliver a short health and safety briefing and then start with the day. Every course is different, but we try and spend as much time outside as possible- after all that's what they've come here for. Groups will be issued with equipment, such as quadrates, metre rulers, light meters, stopwatches etc depending on the course they are doing. They take out clipboards to make their notes and record their data. If it rains we have plastic covers they can use: we get them outside rain or shine! At the end of the day we return to the classroom to wash wellies, sort out results and then they head off back to school. Tutors will them wash up equipment, tidy the classroom and set up for the next day.
What are the most important skills needed for your role?
Qualifications: a degree in Science/ Geography or similar. Some teaching experience is required although not necessarily in the classroom: voluntary work/ working at summer camps etc also counts. Skills, required are varied. Flexibility, confidence talking in front of people, experience in organising events, experience managing groups, good timekeeping and a willingness to work outside!
Beyond the degree, a general interest in the environment and natural history is essential. The Field Studies Council ethos is to  try to run centres as sustainably as possible: from the cleaning products we use, to composting and recycling as much waste as possible to passing on positive environmental messages to all the groups we come into contact with.
What is your background?

I've done all sorts before this job, but nearly all with a teaching/ education influence. My degree was in Ecology, Economies and Environmental Science from the University of York. I grew up in Cornwall and during uni holidays I volunteered for Cornwall Wildlife Trust, doing office work and occasionally helping with events. I moved up to Essex for a job as the Senior Zoo Educator/ bird keeper. in a small zoo. This was really good way to build up my CV and get great experience. The smaller the organisation you work for the more hands on you tend to be. I was designing the teaching program, making resources, teaching classes and training the rest of the team. I decided to leave zoo work behind (I loved it but the long, unsociable hours and really demanding work took their toll and I realised as a bird keeper I, I would have to be prepared to travel where the jobs were as it's a specialist job). I was keen to get into environmental education, so decided to get some school experience. I took a 6 month position in a Primary school as a teaching assistant, which was great as it taught me lots about how schools work and curriculum. Once my contract ended, I secured a job in a Secondary School as a biology technician. After my first year there, I did on-the-job teacher training there for my second year and gained QTS (Qualified teacher status- equivalent of a PGCE). My year of teacher training was intense but taught me lots. It also confirmed for me that I didn't want to teach in a school (loved the teaching, but there was an endless amount of making, planning and just general bureaucracy which you end up spending more time doing than teaching). I then got my current job at Epping Forest.
While this certainly hasn't been a straight path from uni, and I've had luck and opportunities presented to me on the way, I strongly believe you make your own opportunities. I've always volunteered in various capacities, I've grabbed opportunities as they've come along and I've gone off in different directions to find what I enjoy and what I'm good at.
What advice would you give to job seekers?
Volunteer! I know it's a gripe amongst people wanting to work in the environmental sectors, especially in the charity sector, but volunteering brings so many advantages: contacts, a chance to get involved in lots of different things and see what you like/ enjoy, a chance to learn skills and potentially get free training, the opportunity to get the 'insider's view' of what the job is really like, and of course the opportunity to do something good and make a difference. Places I've volunteered for are: Cornwall Wildlife Trust, the Kingfisher trust (organisation that does food and farming projects with kids), Essex Wildlife Trust (education volunteer and barn owl adviser & monitor), students in schools volunteer program at uni, a month's paid volunteer placement at a biological reserve in Ecuador and at Epping Forest Field Centre! I hadn't actually been to Epping for over a year when I went for the interview, and I'd only been able to come occasionally in the school holidays, but it definitely helped me prepare for the interview.
My volunteering has been mostly education based, but organisations such as the Wildlife Trusts are always looking for volunteers to help with local surveys, river walks, helping out at events etc. For example I am trained to advise assess people's land on the suitability for barn boxes, and am also licensed to monitor barn boxes during the breeding season. Likewise, the FSC rely on volunteers to help with courses, make resources, help with the grounds and help out on open days. These are just 2 organisations I have experience with, but there's plenty out there – for example is there a communal allotment near you? for example – is there a communal allotment near you? A nature reserve?